A Beginners Guide to Floatation at Float Space
Below you can watch our short video or read on to see a step by step guide to the process around using our floatation rooms and what you can expect from us when you visit.
It is not advised to float on an empty stomach, doing so often results in people experiencing symptoms of nausea. It is best to have eaten something at least 30 minutes before floating but ideally not less than 2 hours before.
Upon arrival for your first session you will be checked in and asked if you have watched the video or read the guide and whether or not you have any queries before allowed to go into the float room for your session. We always advise arriving 15 minutes before your start time on your first visit and ideally at least 5 minutes any other time.
Each room is private, with self contained showering and changing space.  We always advise that people take advantage of using the toilet prior to entering the rooms.
Once entering the room the door has a simple lock to ensure privacy.  The music will already be playing within the pod, this is a 10 minute track that is a prelude to your session start time.  
When the music ends, your time starts.The first step is to undress and stow away your clothing and belongings as well as getting ear plugs if you require them and covering any grazes or cuts with the provided skin protectant. If you wish to use the floatation pillow then you can place that in the pod to avoid coming back for it after showering.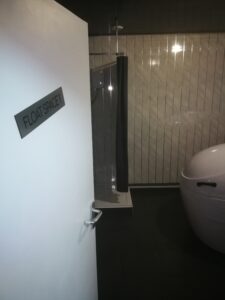 Once you have opened the pod (and placed pillow in if required) you must have a rinse off in the shower to remove any loose hair, debris or make-up before entering the pod. Next to the pod you will see a spray bottle, this is in case you get salt in your eyes, simply open the lid part way and you will be able to use this to rinse your eyes.
To enter the pod first step in, then using the handle on the underside of the lid lower that and yourself down to a kneeling position. Once the lid reaches half way it will slowly close itself over you or it can be left at that point if you have claustrophobia or similar concerns. Then by simply posting on one hand or using the internal handles allow your feet to float into the tank, keeping you head at the lid end.
Within the pod are 2 push buttons marked with a symbol next to them. On the right is the switch for the internal lighting, and on the left is a call for assistance button.
If the Call for Attendant button is pressed we shall first knock on the room door and ask if you need assistance, if no answer we will unlock the door, open the door just so it's ajar and again try to confirm if you need assistance. If there is still no answer we will enter the room and open the pod to ensure your safety.
5 minutes before the end of your session the music will come back on, once this music stops your session time is up.  As you come out of the pod you should not step straight out but allow the water to run off you within the pod.  
Once you are out of the pod please close the lid.   You can then step into the shower, we provide Aloe Vera Shampoo and Body Wash from Faith in Nature. Please note the showers may take a few seconds to settle on the correct temperature.
If you have used our towels please leave these in the rooms to be cleared during cleaning and if used our skin protectant or ear plugs ensure they are placed in the bin in the room.
We provide 3 beauty stations with fitted hair dryers and we also have a space you are invited to use after your float to have a drink to hydrate yourself and to reflect on your experience if you so wish.  We love a chat and will always try to make time to ensure your experience exceeds expectations.
Thankyou for taking the time to go through this guide, it will help us ensure an on time and professional service.